Reverse Osmosis Filter Review – The Best Reverse Osmosis System 2019?
---
Crystal Quest Thunder 4000M(P)
Reverse Osmosis Filter Review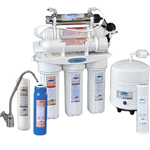 Overall Rating: 8/10
Price: $520 / £427.70 (Or $15 per month) – Standard,
OR $610 / £502 (Or $20 per month) – with Pressure Pump
Best Place to Purchase:

Filterwater.com

   (/    with Pressure Pump)

Customer Reviews: N/A
Guarantee: 1 Year Warranty* & 30 Day Money-back Guarantee
Material: Plastic / Metal
*(If installed by a licensed plumber)
---
If you read our post about The Top Water Filters for drinking water, you may know that Crystal Quest offers a high-end Reverse Osmosis Water Filter.
But, we didn't get to cover it in full detail. So today, we'll help you
decide whether this water filter really is for you. We'll be covering a
range of pros and cons, and delivering a final verdict in this reverse
osmosis filter review.
Water supplies across the world are full of contaminants. This means developed countries, and undeveloped. Chances are, you've been drinking is impurities for a long time, and unfortunately they have been linked to quite a few you health risks.
We covered this in a separate article, but potential risks include cancer, endocrine disorders, reduced reproductive health, and more. This water filter helps to remove a lot of these chemicals and impurities, but what makes it different to the rest?
What Does It Do?
The Thunder 4000M(P) is a 17-stage Reverse Osmosis System. However, it combines several other technologies, too, such as ultrafiltration membranes, carbon filters, and UV sterilisation. What this results in is an outstanding amount of impurities being removed from the water.
At the same time, you can also add other parts to the filter to improve its function, such as a remineraliser which we highly recommend. More about that later.
Product Note: You can buy this filter with or without a pressure pump. The 4000M is without, and the 4000MP comes with one. You'll need the pressure pump if you you have a low water pressure (below 35 psi) in your house / supply.
If you don't know your water pressure, you can measure it using a simple pressure gauge (available in most hardware stores) or research your type of boiler and supply
Let's take a brief look at what different stages of filtration does.
Reverse Osmosis
This is a technology used in water purification to remove a varied amount of contaminants. It works with a semi-permeable membrane through which water is transported by using pressure.
By doing this, it effectively removes:

Heavy Metals such as Mercury and Lead

Fluoride

Sediment

Hormones and Pharmaceuticals (/ Drugs)

Minerals*
However, it may leave some amount of:

Microplastics (including BPA)

Chlorine

Chlorine By-products (including trihalomethanes)

Volatile Organic Chemicals (VOC's)
Bacteria, Viruses, Cysts, Pathogens
*Whilst being effective, reverse osmosis is best when paired with other methods. This is because it removes beneficial minerals and a considerable amount of some contaminants can get through it.
However, the RO technology of this filter removes contaminants down to 0.001 micrometres of size!
That is far more than you might expect from other systems, and is by no means unimpressive.
One thing that nonetheless makes this filter so high-end in quality, is that it combines different techniques for the best outcome. If you want fresher, more natural water, this is a good start.
Carbon Filtration
Due to the versatility, carbon filters (such as granular activated carbon blocks) are found in a range of different water filters.
They reduce contaminants by adsorbtion (basically, they trap particles on their surface). However, carbon filters home with multiple different filter sizes, most of the time varying from 0.5 micrometres up to 50. The smaller the filter size, more contaminants removed.
The Crystal Quest cartridges filter particles down to 5 micrometres of size. Therefore, you can expect chlorine, VOC's, some microplastics, sediment, mercury, and unpleasant tastes and odours to be removed.
Carbon filters have an extremely large surface area, which is what makes them efficient filters with an expected function time of 6 to 9 months. After which time, you can purchase replacement cartridges.
Extra and Ultrafiltration Stages
Several extra stages of filtration ensure that what does get through initial stages, doesn't get into the water. These include four 1 micron pre-filter pads, and a 0.2 micron ultrafiltration (UF) membrane.
Another technology combined in the filter is the use of copper and zinc alloys. These have powerful effects on heavy metals, chlorine, iron, and hydrogen sulphide whilst preventing bacterial growth. Additionally, de-ionization stages target metals, resins, and water hardness.
In order, the water is filtered by:

Carbon
0.2 micron UF membrane
1 micron filter
Granular activated carbon (GAC)

Ion exchange
Alloys

Alloys
1 micron filter
Reverse Osmosis (RO)
1 micron filter
Eagle Redox Alloy beds
Eagle Redox Alloy beds
Ion exchange
Granular activated carbon (GAC)
1 micron filter

Ultraviolet (UV) water sterilisation
0.2 micron UF membrane
The final two stages in particular prevents bacteria and help to provide pristine levels of purity.
Let's see whether it could be the best reverse osmosis system 2019, or not. Here are the pros and cons.
Pros:
Here are some of the benefits of using a water filter. For the sake of this reverse osmosis filters review, we'll also be comparing this model to other competing filters on the market to see how it stacks up.
After these, we'll discuss the cons and then deliver a final verdict and decision on whether the crystal quest filter is really the best you can get.
Removes over 500 Contaminants
Don't forget Why To Use A Water Filter. There are many reasons to use a water filter, but none more significant than removing harmful chemicals and impurities.
Without a doubt, that makes this is one of the most effective water filters available. With all of its stages, it can remove over 500 contaminants in water to a high degree.
Here is a quick list of some of the most significant reductions:

Overall Water Hardness

Total Dissolved Solids (Sediment, Rust, Silt, and More)

Aluminium

Calcium

Chloride

Copper

Fluoride

Iron
Magnesium
Manganese

Nitrates

Pathogens and other organic molecules

Sodium

Trihalomethanes
As you can see, using this system provides significantly pure water. It removes a range of harmful chemicals and unwanted impurities, preventing them from getting into a water and ultimately into our bodies.
Compared to other competing multi-stage water filters, the 17-stage Crystal Quest is extremely in-depth with even more filtration just to ensure quality. The well-reviewed Radiant Life 14-Stage water purifier, for example, has less stages and yet it is much more costly to purchase. We'll talk about this more later on.
When considering a high-end water filter, you want to know you're getting what your money is worth. So, being able to know that a good job is being done is essential. This earns the Thunder 4000M(P) a big plus in this review.
Remineralises Water
Some of you may have noticed something about the list above. And maybe also about reverse osmosis… The minerals are removed from the water! Initially, this is a negative point for the filter, as the minerals in water help to provide alkalinity, taste, and nutrition.
However, the argument is slightly conflicting nutritionally, as a balanced diet provides the same minerals that water does. Nonetheless, it is better to have them them to go without.
So, what can you do about this? Well, something particular about this reverse osmosis system, is that you have the option to add beneficial minerals back in.
The Natural Mineraliser Cartridge lasts for up to 1 year, and helps to provide us with calcium, magnesium, sodium, and potassium. These are essential for overall health, aiding organ function, growth, and fighting free radicals.
Moreover, inadequate amounts can lead to reduced bone strength, heart disease, and other chronic illnesses.
The cartridge comes at a price of $69.00, but is currently reduced to $52.00. You should get a plumber to install it.
Other alternatives to remineralise your water include adding mineral drops (about $67 / £55 per year with repeated purchases) or a small pinch of (pink) Himalayan salt.

Value For Money
As related to the point above, the water purifier does provide a high amount of value. In this reverse osmosis filter review, it's clear that the Thunder 4000M(P) model is one of the top of available on the market.
However, its value doesn't just lie in its effectiveness and ability to add minerals back into the water. They certainly help, but there is more.
As with a lot of filters (and other devices), you'll eventually need to replace certain parts to keep it functioning at its best. This does sound like a hassle but only has to be done every 0.5 to 4 years, depending on the part. (We'll explain that part)…
This is a con on our list, make no mistake. But we know that we could say the same about most (if not all) multi-stage filters.
On average it doesn't cost more than expected for its product type and is mostly a necessary investment. The reverse osmosis membrane will require replacing every 2 – 4 years. The remineraliser each year, the UF membranes every 1 – 3 years, and the carbon blocks 6 – 9 months.
If we break it down, it can add up to differing amounts of money but is useful. The more you use it, the more you'll need to replace it, and vice versa.
That is to say, if we assume maximum costs, without any discounts or offers, it will equal $297.60, plus $60 the next year for the reverse osmosis membrane. However, considering minimal costs, still without any discounts or offers (and divide by the years) that will be reduced to roughly $207.00 per year. Those prices include the recommended remineraliser.
It's fair to say the filter does deserve a point for its value, despite the hassle of the re-purchasing parts.
Once again compared to the Radiant Life 14-Stage water purifier, there is an advantage here. Despite not requiring replaceable parts, the filter costs $1,695.00 at its lowest, or the equivalent of 4-6 years' worth of using the Thunder 4000 17-Stage Water Purifier.
Note: The running costs we discuss further below.
1-Year Warranty
Another thing to like about this filter is its warranty. There's nothing worse than buying something, especially anything high-end, and something going wrong. But even worse when you can't get a refund or replacement.
For the filter system, Crystal Quest provides a warranty to protect purchasers considering this. You can read more about it here. As long as it is installed according to the 'Use and Care Manual' buy a licensed plumber, you'll be able to get a repair, replacement, or refund without charge should it prove to be faulty.
This means that you can have more confidence in your purchase, and does make the company more trustworthy.
This is a plus for our reverse osmosis filter review.
Not only could it possibly be considered the best reverse osmosis system 2019, the warranty gives it a trusting reputation.
Monthly Payment Available
Budgeting. It's a useful thing. Not everyone has the money around to outright buy a lot of the things they have, including cars, houses, and machinery.
Fortunately, whilst you probably won't need a loan for this system, that doesn't mean you have to save up the full price either. Filterwater.com offer you the option of instead making smaller monthly payments on all orders over $500. If you apply for their equipment financing options, you can lease-to-own the Thunder 4000M(P).
This can be as low as $15 Per Month without the extra pressure pump, or $20 Per Month with it. You can see more details over at the product page.

Fresher Taste and Odour
As expected, improved taste and odour are nice bonuses to the benefits of using this water purifier. But without the mineraliser / alkaliser, the water may taste a bit "flat".
This is because the flavour of most tap water (and bottled) comes from the added chemicals. Without these, water has a much more neutral and natural taste.
Removing the beneficial minerals also affects the taste, however. So adding them back into the water will not only benefit health but may result in a better tasting refreshing glass of water.
Works With Lower Water Pressures (35-60 psi)
Similar water filters require a higher water pressure to function properly. For example, the iSpring RCC7AK 6-Stage water filter requires at least 45 PSI, although it has less stages. Other filters even require at least 60 PSI, too. This often means that you have to buy a pressure pump.
And although that isn't necessarily a troublesome endeavour, if you don't need it, you'll be saving money and and space.
The Crystal Quest Thunder 4000M works with water pressures as low as 35 PSI, which is better than average for this kind of filter. Smaller reverse osmosis systems may work at least only at slightly lower PSI scores. So, for one this size it is a good thing for customers.
The other benefits here is that there is an option where the pressure pump: The Thunder 4000MP.
Additionally, you can expect a flow rate of up to 0.5 gallons per minute when using this filter.
Free U.S. Shipping
This is a bonus more about the distributor: FilterWater. By buying from their website, those inside continental USA are eligible for free shipping on all orders over $99.
Since these filters cost above the free shipping requirement, you need not pay for any shipping to receive the product. It will typically be sent within 2 to 3 days.
Produces up to 100 Gallons Per Day
A common issue with a lot of water filters is the time taken to filter water and the output amount.
Saving any stress, you can get up to an impressive 100 gallons per day of freshly filtered water. You won't need to worry about running out at any rate, realistically. (Though the 4 Gallon holding tank might not hold up too well if you do run that much at once!)
Cons:
Onto the cons of this water filter… This reverse osmosis filter review considers the most significant disadvantages, which will help us to give a more detailed and unbiased verdict.
Extra and Replacement Parts Must Be Purchased Seperately
We mentioned above that the extra parts were positive aspect. They allow you to add minerals back into the water and create a more natural pH level.
However, many of the filter parts will be optimally functional only for a certain amount of time before needing replacement. This is to be expected for a multistage water filter like this, but for one with so many stages it means that replacements will be more required.
We mentioned above the approximate costs that this could bring about each year. Unfortunately, these are necessary and typical for these kinds of filters. This can make the replacement cartridges feel like an additional cost, and more than some people may be willing to pay.
As it comes with no replacement filters or mineralisers from the initial purchase, you'll have to get more after time. And, to add the minerals back in is a small investment on its own. This is because the filter doesn't do so without the additional cartridge.
Requires Space To Install
This one is kind of a given, but not always practical.
As you may be able to see from the image at the start, the filter isn't exactly small. After all, in is something that needs to be plumbed into your water supply.
This will need to take up space somewhere. Most often, people keep these under their sink where they are more out of the way and less visible. Other options may include wherever you can fit it or outside if you can keep it covered properly.
If you make a space outside, imagine the area first.
Running Costs
For the average household, it may run up to $250. This is a disadvantage, the cost is incurred simply for making use of the filter as you may a tap.
Overall this does make so reverse osmosis filter an expensive option. It provides a lot of quality but also comes at a price. The value for money provided by this filter is certainly in its positive range, but that range isn't ideal for everyone.
Lower PH
This reason enforces the fact that you should really get the mineraliser/alkaliser if you get the filter.
Having a lower pH level isn't ideal, it makes the water more acidic. Long-term this may affect health, and over time could corrode materials like metal and plastic. Unfortunately, this leaves it more susceptible to pollutants (which I do find quite ironic).
This could take away from the water filter benefits if not prevented.
These pollutants include some of those which were removed by filtration such as toxic metals and plastics.
Ideally, drinking water should be between 6.5 to 8.5 when it comes to pH levels, according to The United States EPA.
Anyway, a higher pH alkaline water is said to taste better and have more health benefits. Although these benefits have not been officially proven, the theory behind them does make some sense by helping to keep our acidity levels stable. Our body does a good job at this anyway, but as we may have so much water it's possibly more impactful.
The health claims include that it can help with metabolism, regulating your own pH, support immune system health, increase blood oxygen levels, and more.
Final Verdict – Is This Filter The Best Available?
To conclude, here is our overall score for the filter, and we'll give a breakdown of why this is afterwards. Before I do, tell me what you would give this as a rating! Do you find it interesting? Would you get one? Leave a quick comment below. 🙂
*Drumroll…*
… … …
Overall, I rate this a positive 8 out of 10.
HEALTHY RONIN'S RATING
In this Crystal Quest Thunder 4000M(P) Reverse Osmosis Filter Review, we have discussed in depth the positives and negatives about this filter.
Being one with a price range of other premium filters, it's important to analyse whether or not it stands up to the mark….
We all like to jump on the bandwagon sometimes, and the increasing trend of using water filters is certainly worth it. But, another useful idiom here is "look before you leap". (I just realised they make sense together! Get it?)
To summarise…
This is a highly effective water filter. And quite possibly the best reverse osmosis system (2019).
With 17 stages of purification, it does a lot for your health and taste buds. Additionally, it provides high value for its money, especially considering the warranty and financing options and free shipping from filterwater.com.
Like other water filters of its kind, it does require replacement parts. These can cost a considerable amount altogether, despite being necessary. Furthermore, if you're getting this filter, it is highly recommended to get the extra mineraliser cartridge, which usually costs $69.
The positive sides undeniably outweigh the negatives. But for some the negatives may be more significant, which is why I give a well-deserved 8 out of 10 for this product. It will suit a lot of people's needs for sure.
So if you said you're interested, you can Pick One Up Here!
[
Or Here
if you need a pressure pump c:]
Alternative Options:
If this isn't for you, perhaps look at this cheaper filter if you'd still like high quality drinking water. Or, you can check out The Top 5 Water Filters For Drinking Water!
Read: A Make Water Pure Distiller Review
The above distiller is high-quality, and comes at a much more affordable price. It works well in the kitchen and can provide much better water than tap water, whilst being cheaper water than bottled.
That's it for this review, thank you for sticking with me on this, and well done for finding more information before making a decision. That's always wise, as any Ronin would tell you.
Until next time, stay healthy
James
Bonus: Get your hands on your own FREE recipe book:
"Oat-my-goodness! A Step-by-step Guide to Six Savoury and Sweet Oatmeal Recipe".